The Christian letter continued:
ATTRIBUTES OF THE HEART
Attributes of the Prue Heart: If likened unto the Hebrew Tabernacle, the Heart would be a "Holy Place," even "holy ground," where only trusted thoughts, friends and family enter.
The new-born heart is pure, innocent, and without any contaminating, mortal-impacting, experiences.
Able to believe and trust Father, Christ, true prophets, truths and correct principles and also him or herself.
The primary source of Christ-like love, compassion, and kindness (See Deuteronomy 30:6,10,14,20).
Seat of beliefs and of believing the desirables of, and for, life. Also, believes errors allowed in!
The spirit-heart comes to the infant's body with a personality and pre-mortally ordained gifts & talents to be developed here.
The Heart, likened to an unused computer, is without data to then receive all the earthly data allowed in by the Mind. (As with all mankind, the Heart arrives on earth with the Light of Christ – see Conscience later).
The sub-conscience Heart processes only the truths or errors received and/or absorbed by it.
Source of one's Feelings, Desires, and/or Passions and especially genuine Christ-like love.
(Sometimes the term soul is used when a more meaningful communicating word might be heart.)
Under the influence of strong emotions, the Heart receives thoughts more readily and are often more firmly set.
Usually, one acts out of the feelings of the Heart, therefore allowing the Mind to preside especially when beginning a before-untried activity – of any kind. Once morally right procedures are established in the Heart one can allow oneself to carry on, trusting those established righteous Feelings, a very comforting experience.
Receptor of feelings from the Holy Ghost – may be likened to a second witness to the promptings in the Mind.
("I will tell you in your mind and in your heart by the Holy Ghost…" – D&C 8:2)
Not discern between wealth & poverty, right & wrong, good & evil, truth & falsehood. Judgements are for the Mind, not the Heart.
(Again, the Mind should carefully guard what is, and is not, allowed to enter that "Holy Ground," the Heart.)
The Mind should ponder, consider, and evaluate the "intents of [their own] heart." (Jeremiah 30:24; Matt. 6:21)
"And let none of you imagine evil in your hearts…" – Proverbs 23:7)
The authentic, real person of integrity is as he is in his Heart – not by appearances, pretensions, or just "to look good." ("…man looketh on the outward appearance, but the Lord looketh on the heart." – 1 Samuel 16:7)
_______________________
*All Biblical references are of the King James Version and the few other references are published by The Church of Jesus Christ of Latter-day Saints, such as the Doctrine and Covenants (D&C), and books in the Book of Mormon.
NEXT TIME: THE LOINS, The Holy of Holies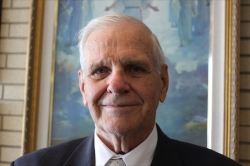 Latest posts by George Pemberton
(see all)